Stability.Strength.Performance
ToePro Foot/Ankle Exercise Platform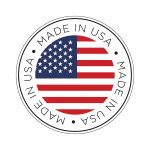 TheToePro foot exercise platform has been designed to improve performance by strengthening muscles of the foot and leg in their lengthened positions. Compared to conventional exercises, exercising lengthened muscles produces nearly fourfold increases in strength.
The ToePro Foot Exercise Device is also useful for the prevention of falls in the elderly: Every 1% increase in force generated beneath the big toe decreases a senior's risk of falling by 7%.
** The ToePro Foot/Ankle Exercise Platform is designed, engineered, and manufactured in the USA.
Increase Toe & Arch Strength
"I started using the ToePro about two years ago at the recommendation of my chiropractor, John Ball. When I first started using the device, I could feel it target very specific muscles in my arches and legs, and knew it was going to be helpful. I highly recommend this device, not just for improving running performance, but also for preventing injuries."
"I was first introduced to the Toe Pro when I started working with elite athletes here at HOKA NAZ Elite. I've seen it become a huge part of our daily ancillary routine to help strengthen the muscles and tendons of the lower leg. It's an excellent tool to have so our athletes can maintain health and consistency in their training."
"The ToePro is a great tool for strengthening the foot and ankle, it's simple to use and there are a variety of exercises that have been helpful in addressing my lower leg issues- from plantar fascial pain to ankle instability. Runners everywhere know how important it is to take care of your feet!"
"I have been meaning to write you for sometime. I want to thank you for your innovative efforts, and I appreciate all your products but in particular I want to especially highlight the ToePro: it is such a game changer! I put every patient on it and have them purchase it for home use. I have been in sports medicine over 40 years- this works better than anything else on the market.
I was cast on the right lower extremity for a year at age 16 after a severe fracture, and six months in had to have my fibula refractured and reset and had a bone graft to the tibia. After
the  cast was removed
, my orthopedic surgeon said I did not need physical therapy but to "let it come back naturally"! That is why I went into sports medicine – I never wanted anyone to experience what I did.
I tried everything and have taken many courses in lower extremity rehab, but the deep muscles of the toes and foot continued to atrophy with age. The
ToePro
is the only thing that has made a significant difference, and the kinetic chain changes have been a remarkable gift as well. I joke with my patients that if the ToePro were a man I would marry it because I love it so much!
"
"I'm a 54-year-old male endurance runner and have been limited by chronic ankle and Achilles issues for several years. I followed Dr Michaud's instructions and within a few days of using the ToePro, I'm now running painlessly. I needed a tool to strengthen the great toe as well as peroneals, which the Toe Pro does in spades!  After just two weeks of using the Toe Pro, I was able to hit 72miles last week! I'm now running pain-free and helping patients in our clinic overcome their foot challenges. The Toe Pro is a very thoughtfully designed tool for building intrinsic and extrinsic foot strength. It's everything you need to help your clients, patients, as well as yourself, improve movement from the ground up."
"Although I'm a master's athlete now, I started working with Dr. Michaud when I was just 18 years old. As an injury-prone athlete, he helped me through at least a dozen different injuries during my athletic career. As I became a master's athlete, Dr. Michaud taught me that I am most likely to slow down as I lost strength in my feet and calf muscles. It's my mission to not slow down, which is why I religiously use the ToePro strengthening platform. It only takes 10 minutes, 3-5x per week to keep my feet and legs strong. Even though I'm in my mid-40s, I managed to win the open race at New England 8k Championships, finished 3rd overall woman at the Mount Washington Road Race and recently won the ElliptiGO World Championships. I recommend the ToePro to all the elite and recreational athletes I train."
Jaxie Meth, PT, DPT
The Method Performance
Sara Hall
Professional Marathon Runner
Dr. Courtney Conley
Total Health Solutions